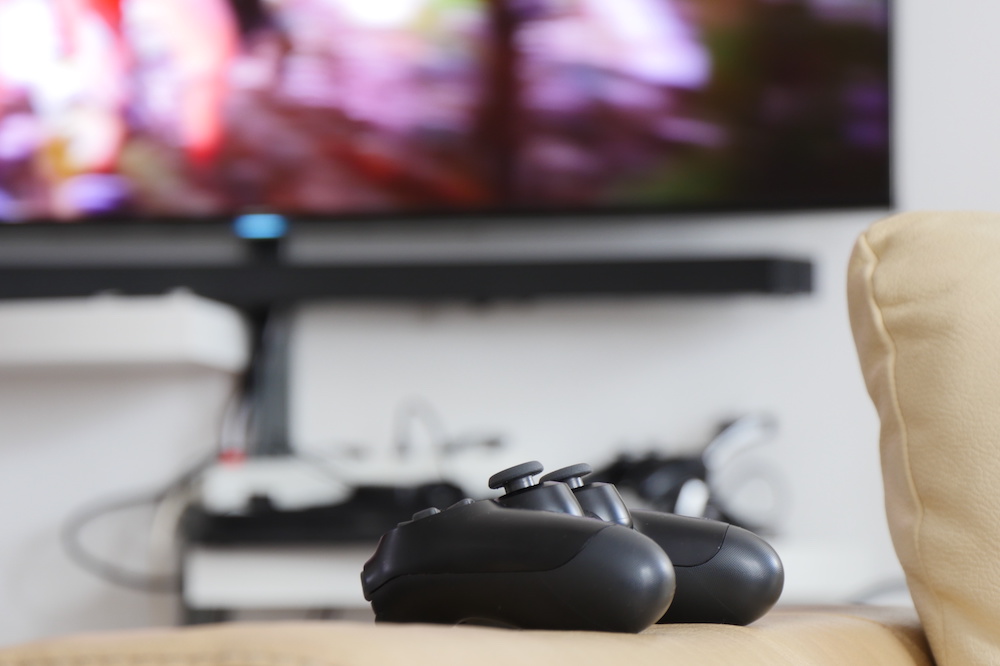 How To Connect Bluetooth Gaming Chair to PS4 in Easy Steps
To level up your setup, one simple trick you can do is learn how to connect Bluetooth gaming chair to PS4.
The PS4 is arguably the most successful game console ever released in the past 10 years.
With just under 117 million units sold compared to Xbox One's 51 million, it should be evident that Sony dominates the home console wars.
Gaming chairs have become a staple among gamers in recent years.
Due to their ergonomic design, advanced features, and style, they are considered by many as a must in any gaming setup.
Some even come with Bluetooth connectivity.
Are Gaming Chairs for PS4 Worth It?
Firstly, gaming chairs for the PS4 are not the same ones designed for PC.
Console games are best suited for rocker-type chairs, while PC games are suited for office or racer-type chairs.
The most distinct features that separate console gaming chairs from PC gaming chairs are the audio and vibration systems.
These features enhance your experience while playing various games.
There are two main types of PS4 gaming chairs: wired and wireless.
Bluetooth gaming chairs have become very popular because of their convenience and overall functionality.
While wired gaming chairs are more practical, the wireless variants are more innovative.
How To Connect Bluetooth Gaming Chair to PS4
To connect your Bluetooth gaming chair to your PS4, follow these steps:
Step 1: Choose your preferred method.
There are three ways of connecting your Bluetooth or wireless gaming chair to the PS4.
In case you don't know, there is no way to connect your gaming chair to the PS4 directly via Bluetooth.
The PS4's Bluetooth feature is only for PS4 peripherals, while the Bluetooth in your gaming chair is strictly for audio mode only.
Choose one of these methods before moving to the next step.
RCA Cable Method
Within the package of your Bluetooth gaming chair, you will find these components:
Shorter and longer 3.5mm to RAC cable
Two B3 barrel adapters
Once you have these pieces, start linking the two RAC cables via the two B3 barrel adapters.
Connect them by matching the color, red to red and white to white.
Find the cable with a green end and plug it on the audio output of your TV.
Plug the other end into the audio jacks of the control panel built in your Bluetooth gaming chair.
After making the connections, ensure that the wires are correctly connected.
Wireless Transmitter Method
Similar to the first method, you will need the 3.5mm audio cables with green ends.
Using these cables, start connecting the transmitter to your TV by linking the green male end to the transmitter's input jack.
The other end should go into your TV's audio output.
After you check the batteries of the transmitter, turn on the transmitter and your Bluetooth gaming chair.
Make sure that the chair is connected to the power supply through a cable.
There are 1-2-3 band frequencies. The chair and the transmitter should be on the same frequency.
Matching the frequency shouldn't be difficult because there are only three bands.
Aux Cord Method
The one end of the aux cord should go into your PS4's controller headphone output.
Then, insert the other end into the aux input of your gaming chair's control panel.
Out of all three methods, this is the easiest.
However, keep in mind that this may impact your controller's battery life.
Step 2: Connect the Console to the TV.
Use your PS4's HDMI cable to connect your console to the TV.
Before you make these connections, make sure your PS4 is switched on and that the input source is set to where the HDMI slot is.
By doing so, you could see in real-time if you did everything correctly.
Bluetooth Gaming Chairs
Haven't invested in a console gaming chair yet?
Below are a few examples of Bluetooth gaming chairs that you may consider buying.
Note that the prices mentioned are subject to change at any time.
1. X Rocker 2.1 Wireless Pro Series
Price: $$$
Color: Monotone
Material: Faux leather
Compatible with most major consoles, the X Rocker 2.1 Wireless Pro Series boasts a 2.1 speaker system.
You will find it installed in the headrest for a dynamic audio experience during games.
2. X Rocker 5172601 Surge
Price: $$
Color: Black, Red
Material: Faux leather and mesh
This model has two forward-facing speakers that deliver great audio with a low rumble.
You can even connect multiple Bluetooth chairs to get a more immersive gaming environment.
3. Ace Casual 5130001 Gaming Chair
Price: $$
Color: Blue, Black
Material: Faux Leather, Mesh
This foldable, rocker-type gaming chair features two headrest speakers with a built-in subwoofer.
With its 2.1 fully integrated audio system, you can expect a high-quality gaming experience without spending too much.
Best Games To Play With Your Bluetooth Gaming Chair
Now that we know how to connect Bluetooth gaming chair to PS4, let's get into the fun part.
The PS4 offers a plethora of games that could help you utilize your gaming chair to its fullest potential.
Here are some recommended exclusive PS4 games that could be more fun if you use a Bluetooth gaming chair.
1. Marvel's Spider-Man and Marvel's Spider-Man: Miles Morales
If you are looking for a superhero game with pulse-pounding action sequences and intense boss fights, look no further.
Become the web-slinger in this well-crafted video game that highlights the struggles, defeats, and victories of Peter Parker and his successor, Miles Morales.
Fans of old and new are sure to be captivated by the fantastic visuals, memorable soundtrack, and unforgettable characters.
Playing this game with your wireless chair will bring more thunder and excitement.
2. Until Dawn
Here, you take control of eight people trapped in an abandoned mountain retreat.
This horror game is more like an interactive movie, as skill is not required to progress through it.
Sit back on your gaming chair, enjoy the story while controlling their fate.
If that is not interesting enough, you could at least appreciate the almost real-life graphics and engaging musical score.
3. Uncharted Series
Ever wonder what it's like to be a treasure hunter?
Wonder no more, as Uncharted introduces us to Nathan Drake.
This daredevil adventurer always gets himself and his friends into trouble because of his relentless pursuit of treasure.
Not all triple-A titles are made the same.
With Uncharted, you are sure to be on the edge of your seat because of its movie-like cinematics and numerous plot twists that other games could only dream about having.
4. GT Sport
The long-running video game series Gran Turismo finds its way into the PlayStation 4 with the GT Sport.
Known as the Real Driving Simulator, the game puts you on course to pedal to the metal thrills as no other racing games could.
Polyphony Digital has crafted a finely-tuned and accessible game for everyone.
Playing GT Sport while seated on your Bluetooth rocker gaming chair gets you one step closer to knowing what it feels like to be a top racer.
5. inFAMOUS Second Son
This game takes place in Seattle, where your character, Delsin Rower, suddenly got superpowers.
With his newfound powers, fight back against the oppressive military through the help of your family and friends.
While the story is nothing special, the action sequences are not to be underestimated.
You also are given choices during specific points of the game that could affect you and the whole city.
6. Ratchet and Clank
Get ready for an adventure in space with Lombax and his robotic partner.
This release retells the pair's origins but with fresher elements, a deeper storyline, and wackier action.
Kids and adults alike will love the spectacular visuals, challenging boss battles, catchy soundtrack, and stellar voice acting.
Playing this game on your Bluetooth gaming chair will amplify your gaming experience to new heights.
Conclusion
To experience your games on a new high, make sure your gaming chair matches your console perfectly.
This chair is designed to level up your entire setup, so you can be sure that you're getting your money's worth.