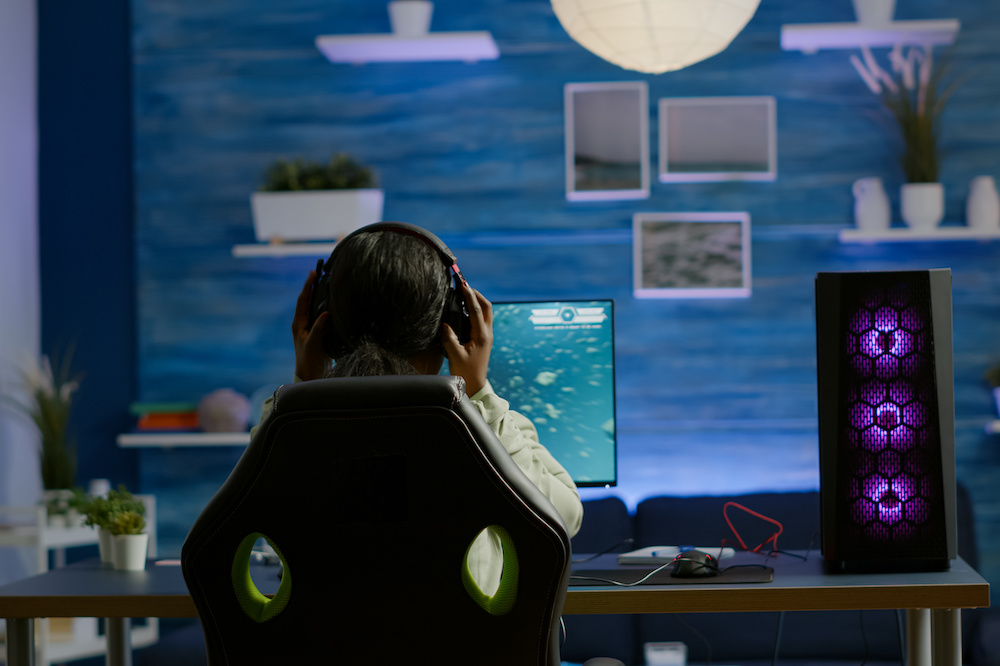 Merax Gaming Chair Review
We all know this to be true. Sitting for hours on end will result in pains and aches here and there.
From your butt up to your back and neck, it can all be unbearable sometimes.
This becomes even more of a problem if you are a serious gamer who spends all day in front of the computer.
You know you need a gaming chair, but what makes a good gaming chair, really?
In this Merax gaming chair review, we will introduce to you a gaming chair designed to go well with any setup.
Merax Gaming Chair Review
More than anything, you will immediately notice how this chair serves multiple purposes.
In fact, it can even pass as a clever combination of an office chair, a floor racing-style chair, and a lift chair sofa.
Thanks to its several adjustable features, you get enough support in all the right places.
Who Is This Product For?
Knowing whether or not any gaming chair is the right choice for you depends on your needs and preferences.
Ask yourself how long you usually sit in front of your computer and how much support you really need.
If you are the type who takes gaming seriously and plays several hours a day, this chair would be a perfect fit for you.
Merax knows that the longer you stay seated, the more uncomfortable your back gets.
With this chair, you will not find that a problem at all.
You can take full advantage of the comfort provided by the high-back support and the generous padding on the backrest and seat.
These are just a few of the amazing features this gaming chair offers that others in the same price range don't.
What makes this chair stand out, though, is its no-wheel swivel base.
If you're tired of wheeled gaming chairs, this will be a perfect match for you.
What's Included?
What can you expect from this gaming chair?
Upon unboxing, you'll find that the package contains every part of the chair.
These include the footrest, headrest, lumbar pillow, and a super stable base.
You'll also get two removable side pouches and two cup holders.
Together with the parts is the comprehensive step-by-step instruction on how to assemble the chair.
With a gross weight of 75 pounds, you can be sure that this chair is a solid one.
In fact, it is so durable and stable that it can carry an overall weight of 275 pounds.
Overview of the Features
Perhaps the best selling feature of the Merax gaming chair is its racing-style appearance, made famous by YouTube gamers and Twitch streamers.
With its ergonomic structure and high-back seat, it's not hard to see why gamers prefer it.
Here are even more features you'll enjoy with this gaming chair:
One glance at this gaming chair, and you will quickly realize that it is stable and solid.
Made of high-quality integrated metal, the build and shape of the base make it stand out.
As mentioned, it also doesn't come with wheels that often scratch the floor.
This chair is not too small, nor is it too big. Rather, you will find that it is compact and moderately sized.
It measures 23.62 by 23.62 by 43.3 inches and has a seat depth of 22.44 inches.
At less than 50 pounds, it is quite lightweight, too, making it easy to lift and move from one room to the next.
Another advantage is that it can help you save space in your office, living room, or anywhere you want to put it.
Armrests, Headrest, and Lumbar Support
For the best gaming experience possible, this chair comes equipped with armrests, a headrest, and lumbar support.
These are all parts of the ergonomic features of this chair you can't miss.
While the armrests are fixed, you can remove the headrest and lumbar cushion if you think that you don't need them.
Aside from those three useful features, you also get a flip-up footrest that provides extended support.
It is positioned perfectly to allow you to adjust it so that you can relax your legs whenever you need a break.
Another welcome feature is the reclining backrest.
Whether you're gaming, working, or just chilling and catching up on some of your favorite shows, the reclining backrest supports many positions.
It can recline from 90 to 135 degrees so that you can find a suitable position and then lock it in.
The PU leather covering on this chair gives your skin a cozy feel and warm comfort.
It is also easy to clean and does not tear or wear out easily.
You can buy this gaming chair in black or gray to match your current setup.
One stand-out feature of this gaming chair is its convenient cup holders.
These are positioned on each side of the chair, allowing you to choose which is the most convenient for you.
Both left- and right-handed gamers will find this feature valuable.
With this, you no longer have to risk the safety of your computer peripherals and save them from accidental spills.
Most gaming chairs come with just your standard armrests, but Merax takes it a step further by adding side pouches.
Here, you can hold your stuff temporarily when you don't need them or want to attend to other things quickly.
Gamepads, remote controllers, books, headsets, and your other essentials will easily fit into these pouches.
How To Get the Most Out of This Gaming Chair
This Merax gaming chair review aims to answer almost all, if not all, of your questions about this stylish chair.
How can you utilize its ergonomic features and reap all the benefits?
First and foremost, you can't just sit any way you like, or else you won't experience any of this chair's amazing advantages.
Rather, it would just be a waste of money.
You will have to make adjustments to the chair to turn it into the most comfortable and most suitable gaming chair for you:
Check that the lumbar cushion supports your lower spine and that the headrest is keeping your head secure.
Adjust the recliner back to a position that befits what you want to do.
If you want to work on your computer or study, you will likely get the best position between angles 90 and 110 degrees.
For taking a nap, you can recline it all the way down to 135 degrees.
Adjust the flip-up footrest to help you relax your current sitting position.
Alternative
The incredible features of the Merax gaming chair make it the perfect choice for a lot of gamers.
Still, it wouldn't hurt to check out similar gaming chairs from other brands.
In that case, we recommend looking at the Anda Seat Gaming Chair.
This chair comes packed with plenty of interesting features and is slightly larger and taller than other gaming chairs.
You will also find the swivel/rocking function and the adjustable padded headrest and lumbar support quite useful.
Conclusion
Looking at its impressive set of features, there's no doubt that the Merax gaming chair is indeed worth it.
It is compact yet sturdy, as well as provides comfort any day of the week.
While tagged as a gaming chair, it doesn't mean it's only for gaming.
It quite versatile and not restricted to a particular use.
You can use it for a lot more tasks like studying, working, and even napping.
It helps you focus so that you can easily work your way up the score ladder.
All in all, if you are serious about gaming, you will find that this chair is a more-than-worthy investment.