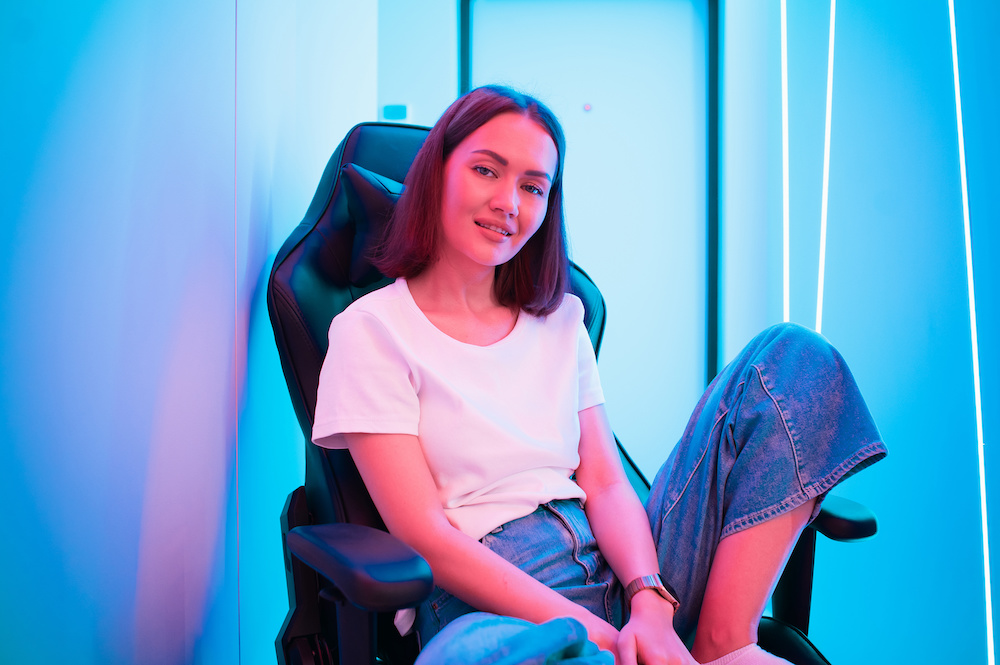 Nokaxus Gaming Chair Review
---
<!–googleoff: index–>We may earn a commission for purchases using our links. As an Amazon Associate, we earn from qualifying purchases.<!–googleon: index–>
---
Choosing a great gaming chair is challenging when there are so many to choose from on the market today.
As you'll find in today's Nokaxus Gaming Chair review, every chair is equipped with unique options, numerous features, and different styles.
Depending on what you are looking for, you can filter through these options and come up with a good number of choices.
One such choice is the Nokaxus Gaming Chair, a unique mid-range option that fits into many offices well.
To find out if this is a good fit for your home, take a deep dive into the details that Nokaxus equipped on the chair.
Nokaxus Gaming Chair Review
The Nokaxus Gaming Chair is a mid-range gaming chair outfitted with the latest features in a comfortable, ergonomically-friendly design.
This design is one of many specialized gaming and office chairs from Nokaxus, and each chair has unique features to benefit the user.
In particular, this chair stands out for the amazing support and added footrest which helps it excel past other gaming chair options.
Who Is This Product For?
The Nokaxus Gaming Chair is a great choice for anyone looking for an affordable, ergonomic chair that has a lot of adjustable features.
In particular, those who want to be able to lounge and sit in a lot of different positions will find this chair comfortable.
Since the chair has a large seat area, it is good for those who have wide hips or want to have a lot of space on the sides.
While the Nokaxus Gaming Chair has a few color options, you should look for another chair if you are seeking custom color designs.
Additionally, those who are very tall, over six feet, might want to choose a different chair.
While the height of the Nokaxus Gaming Chair is adjustable, the headrest height doesn't line up properly for those over that height.
What's Included?
This unboxing review gives a great look at the Nokaxus Gaming Chair in action as well as what's included with it.
The Nokaxus Gaming Chair includes all that is needed to assemble it and can be ordered with assembly included or you can do it on your own.
Overview of Features
When it's time to upgrade your chair, you want to make sure you take a lot of time to look for the right features for your personal needs.
If you choose something without looking at the details, you might wind up with something disappointing and uncomfortable.
Get to know the details found in one of the best chairs for gaming: the Nokaxus Gaming Chair.
One of the best things about this chair is that you can fully customize it to fit what you need to be comfortable.
The backseat reclines, and the tension of that recliner can be adjusted as well.
This affects how much it will lean when you are sitting, and you can find the tension level that suits you with a few test sits.
As with most chairs, the height of the Nokaxus Gaming Chair is also adjustable, and you can adjust it with a simple three-point level system.
The armrest heights adjust up and down as well, so you can get the right support under your arms while working or playing games.
Adjustable armrests are also great for those with low desks; shortening the armrests helps the Nokaxus Gaming Chair fit under the desk.
Gaming chairs typically give your body a lot of support, and the Nokaxus Gaming Chair is no exception to that rule.
The lumbar and neck pillows provide a lot of support to your back and neck while you are playing games.
Even after long sessions at the computer, you may notice less pain than you typically experience.
The head pillow, in particular, is very cushioned which makes it easy to rest your head comfortably while playing.
The sponge cushioning used in the entire chair is a high rebound sponge which gives great support.
The seating area of the chair also has extra sponge cushioning on the sides where your hips are, so they are more comfortable.
The lumbar pillow on this chair includes a massager. When used, the massager works on your lower back with very gently massaging.
This gives you extra comfort while working on the computer for long hours.
That said, the lumbar pillow must be attached to a power source through a USB port to turn on the massage functions.
Depending on your computer setup, you might need to get a USB cord extender to be able to comfortably plug the pillow in.
The wheels on the Nokaxus Gaming Chair show unique style in their racing wheel design.
They are very small which makes them not move very smoothly on the carpet.
Depending on the type of floor that you have, using a mat under the chair can help it to move around easily.
For the most part, these wheels are very stable and help you to glide forward and backward as necessary to have the right setup.
Gaming Chair vs. Office Chair: What's Best For You?
Many people who aren't experienced with different types of chairs don't know what the differences between them are.
Gaming chairs and office chairs can both be suitable choices for using your computer, but they have different strengths and weaknesses.
Which type of chair is best for your office and needs?
Gaming chairs have very unique designs, and this means that you can add a touch of style to your at-home setup.
From different color options to different padding options, the chair of your dreams can be found.
In most cases, office chairs are not available in as many styles and colors.
That said, office chairs tend to have a more professional, sophisticated appearance than gaming chairs.
While gaming chairs often have a gaming aesthetic, many office chairs look more like they belong in an office.
Depending on which vibe suits your needs, you can choose between them.
When it comes to comfort, both gaming chairs and office chairs can have some supportive aspects.
On the whole, however, gaming chairs tend to do a better job of supporting the body for long periods.
The idea of gaming chairs is that they can provide the best support to your back and body while on the computer for a long time.
Through aspects like extra padding and lumbar supports, gaming chairs let people sit all day in comfort.
There's no doubt that the contours of gaming chairs give your body more support than standard office chairs.
While some newer office chair designs are starting to include these features, they're more affordably found in gaming chairs.
Gaming chairs are often designed so that they can be easily adjusted for many different body types.
These chairs have both 2D and 4D setups.
4D chairs have many different features that you can adjust to get the perfect level of comfort.
From how much the backrest tilts to where the armrests are, gaming chairs allow you to move things around to get comfortable.
Most basic office chairs do not have that many features that you can just beyond the height of the chair.
Gaming chairs also have a number of features that you can get personalized or add to them.
Things like personalized colors, RGB lighting, and footrests can be added to many types of gaming chairs.
These customization features allow you to make a chair that is uniquely suited to you.
If you'll spend a lot of time in your office or room, you might want this kind of specialization.
Alternatives
Even though this Nokaxus Gaming Chair has great features, it might not fit everyone's needs.
Another option to consider if you want to go even more high-end is the Anda Seat Ergonomic Gaming Chair.
This chair offers full adjustability, a lifetime warranty, and a plethora of other useful features.
For those who want a full gaming design, the Arozzi VERONA-V2-RD is a solid option.
The Arozzi design fits in with the most popular streamer-style chair and comes in at a comparable, affordable price.
Get Gaming In Your New Chair!
Have you found the details in today's complete Nokaxus Gaming Chair review to your liking?
Gaming chairs are quickly becoming the norm for the home office, and that means there are more options than ever on the office.
Among all the options, the Nokaxus Gaming Chair is a great choice in terms of adjustability, features, and affordability for many users.
Those who want to go above and beyond when choosing their chair will find the Anda Seat Ergonomic Gaming Chair to be a good choice.
This high-end option stands out in comfort, durability, and usage cases.
Choosing a gaming chair can be difficult; with the info you received today, though, it might be easier.