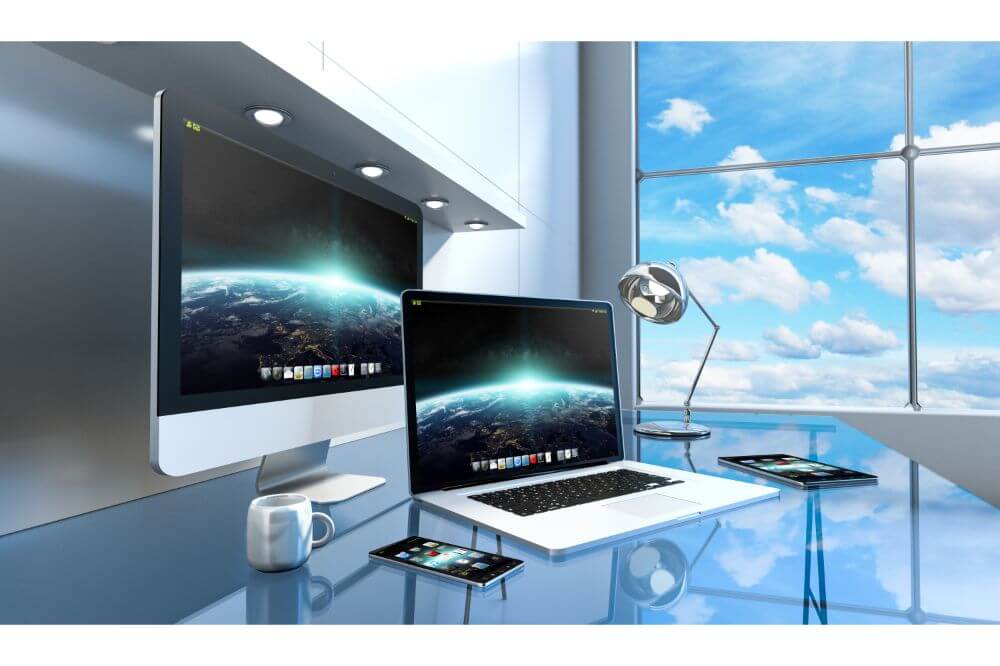 Walker Edison Corner Gaming Command Center Review
---
<!–googleoff: index–>We may earn a commission for purchases using our links. As an Amazon Associate, we earn from qualifying purchases.<!–googleon: index–>
---
If you are an avid PC gamer, chances are that you would like to create a good setup, which usually involves having a desk that can accommodate a tower, a mouse, a keyboard, and multiple monitors too.
It sounds simple, but the fact of the matter is that finding a quality gaming desk for a decent price is easier said than done. Well, today we are here to review one such ​corner gaming desk which fits all of these criteria.
Walker Edison Corner Gaming Command Center
The Walker Edison Corner Gaming Command Center is an L-shaped corner desk that comes with two rectangular glass top desks, as well as a quarter circle glass top desk to bring them together.
Now, it's more than large enough to fit 2 or even 3 monitors, or whatever else you see fit. Something that should stand out is how affordable this unit is, coming in at just over $100.
No, it's not the most expensive gaming desk out there, nor the highest quality of all possibilities, but it is spacious, it looks great, and it's more than good enough for basic PC gaming setups.
Who is this Desk for?
The Walker Edison Corner Gaming Command Center is designed for the true PC gamer, coders, designers, and for anybody else who needs a simple desk with lots of space.
Of course, this is a corner unit, which means that it works well for smaller rooms where the setup needs to be neatly in a corner, which could be for a small room or for a small office or even a cubicle as well.
It's perfect for setting up multiple monitors, one in front and one to the side, or the side desk could be used for other purposes.
What's included?
When you purchaser the Walker Edison Corner Gaming Command Center, you get a three-piece gaming desk, which includes two rectangular desks and one rounded corner desk to bring them together; they come together to form an L-shape, making it ideal for a corners of a room.
Keep in mind that the frames are made of lightweight metal, and the desktops are made of glass panes. As well, included with this gaming desk is a universal CPU stand. Considering the very low price which this unit comes at, we would consider it a great bargain.
Overview of features
In terms of features, the Walker Edison Corner Gaming Command Center is a pretty simple unit, so this is going to be fairly short. First off, it comes with two rectangular desks, each just over 20 inches deep and 25 inches wide, plus that small corner unit to tie them together.
We would say that this is more than large enough to fit a couple of nice monitors. It's not like it's a huge gaming desk, but it does provide enough space for a basic setup.
That said, you could technically purchase 2 of these and join them together to create a U-shaped desk, with desks in front and to both sides of you.
The Walker Edison Corner Gaming Command Center features desk pieces made with metal frames, complete with glass tops. Now, this combination of glass and metal certainly looks very stylish and modern.
Moreover, the glass is easy to clean and wipe down with some glass cleaner, which is a bonus. Other than the included CPU stand, which works for standard-sized towers, there are really no other notable features. It's a simple and straightforward desk.
Tutorial
In terms of getting the most out of the Walker Edison Corner Gaming Command Center, all you have to do is assemble it properly and set it up in a corner. As long as you follow the assembly instructions, there is not much to know or to get wrong.
Pros
Enough room for 2 monitors + extras
Comes with a CPU stand
Assembly is quite easy
Good for smaller rooms that require corner setups
Looks quite modern and stylish
Cons
Alternative
Seeing as glass is fragile and can easily be scratched or broken, you may be a bit wary of getting the Walker Edison Corner Gaming Command Center. If this is the case, you might want to check out the GreenForest L-Shaped Corner Desk, which has the same shape, but is made with wooden tops instead of glass, plus it comes a few bucks cheaper.
Conclusion
When all is said and done, if you are looking for a very simple, stylish, and space-friendly gaming computer desk that fits neatly into a corner and won't cost you a fortune, the Walker Edison Corner Gaming Command Center is a perfectly fine option to go with.