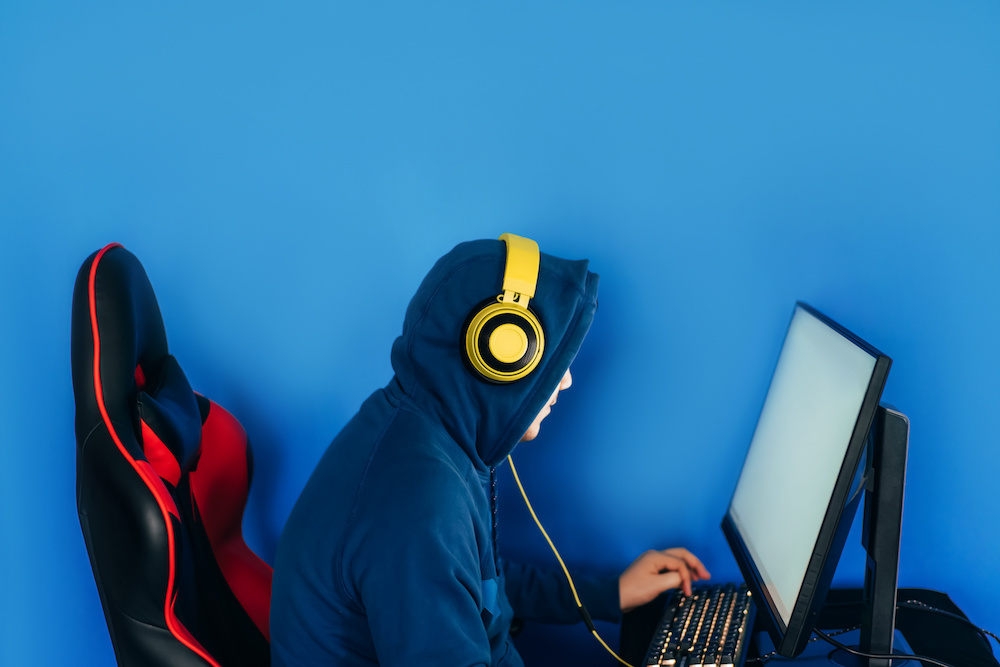 What Gaming Chair Does Ninja Use?
Many gamers find themselves asking, "What gaming chair does Ninja use?"
A high-quality chair is one of the most important parts of a professional gamer's setup.
If you're interested in a chair designed for hours' worth of streaming and competing, it's time to upgrade your gear.
What Gaming Chair Does Ninja Use?
Currently, Ninja has a custom MAXNOMIC PRO Gaming Chair, a uniquely styled chair for Esports.
It's one of the few models on the market specifically designed for hours of competitive play.
It can also be the perfect addition to your office if you're creating a high-quality streaming setup.
These custom chairs typically have their branding embroidered on the backrest for personalization.
A few of these chairs have also featured the iconic blue featured in the majority of the branding.
However, if you want a more subdued style for your gaming chair, the MAXNOMIC Pro is available in numerous colorways.
Is the MAXNOMIC PRO Professionally Rated?
Before you invest in a pro-style gaming chair, it's essential to consider whether it's actually used by the pros.
It's common for streamers to be sponsored to receive free products, only to find they're not as impressive as initially thought.
Fortunately, the MAXNOMIC PRO has a hefty reputation to uphold the quality of their products.
In fact, it's one of the few gaming chairs officially recognized as an Esports chair.
MAXNOMIC is the official chair partner across an assortment of leagues and teams, including:
LCS

ESL

DREAMHACK

Xbox

CS:GO

WCS

LCS

ELEAGUE
MAXNOMIC PRO Esports Chair Features
This gaming chair offers maximum comfort with full adjustability for customization.
You'll also find it's constructed using premium materials, offering the longest possible durability.
It's been tested by numerous streaming pros, including Ninja, so its quality is guaranteed.
Let's explore some of the most innovative components built into the MAXNOMIC PRO.
Ergonomic Support
Whether you're looking for a pro or entry-level gaming chair, ergonomics is important to consider.
This chair has remarkable support within the backrest, thanks to its unique styling.
Within the chair, you'll find an anatomically correct frame designed to adapt to the natural contours of your spine.
Also, the interior padding along the backrest helps to support your entire body.
You'll find that back soreness and fatigue will become less noticeable the more often you use the chair.
Since it's styled to emulate a racecar seat, there's plenty of side padding as well to help hug your sides.
Innovative Cold-Cured Foam
One of the most impressive features of MAXNOMIC PRO chairs is that they feature cold-cured foam.
Instead of traditional high-density fill, this material is highly recommended for quality.
Over time, the material retains its original shape, forming with your body's contours when you sit in it.
You'll find that it's one of the longest-lasting padding materials, especially for hours-long gaming sessions.
The foam is also known to keep its structure with heavier weights, making it ideal for big and tall gamers.
Premium Faux Leather
It can often be preferred to opt for faux leather when buying a gaming chair because it's easy to style.
This gaming chair boasts PU leather, which is easy to wipe clean and fade resistant.
If you like to let a lot of natural light into your office, you'll love how the chair won't ever lose its color.
To take its luxury a step further, the MAXNOMIC PRO has multiple layers of PU leather for optimal resilience.
Regardless of how often you sit in the chair, it can withstand plenty of wear and tear.
You won't notice the material peeling or flaking, and it's very challenging to rip.
Reinforced Base
When discussing durability, it's essential to consider what the chair's base is made from.
Not only will you find a class-four cylinder, but also an aluminum reinforced five-star base.
With this design, weight is evenly dispersed across the entirety of the base for durability.
Also, you'll notice a soft PU coating on the wheels, making them ideal for hard floors and carpet.
Maneuvering away from your desk has never been simpler than with these smooth-rolling wheels.
Fortified Steel Frame
As mentioned, the MAXNOMIC PRO is designed to have an anatomically correct frame.
It's also important to mention the frame is made with the highest-quality materials to reduce squeaking and rocking.
With its fortified steel frame, you'll find the chair is heavier and feels like it's higher-quality.
Most gaming chair manufacturers use 1mm piping to construct their frames, while this model has 2mm piping.
After your first use, you can feel how sturdy it is, even for heavier gamers.
High Adjustability
It's imperative to invest in a gaming chair that features customizable components.
With this model, there are a few key adjustments to make a note of:
4D armrests are often regarded as top-of-the-line since they allow you to completely tailor their positioning.
You'll be able to raise and lower them, like with most gaming chairs, but you can also adjust their width.
Gamers have the opportunity to move them forward and backward as well, ensuring your arms are supported.
Whether you're PC gaming, on a console, reading, or watching YouTube videos, you'll be able to stay comfortable.
The second adjustable feature to consider is the tilt of your backrest.
This model is one of the more unique tilting mechanisms you'll find since it has five lockable positions.
All you have to do is engage the lever, find the appropriate adjustment, and then lock the chair in place.
Impressively, the backrest also features safety limit stops to prevent you from tilting.
If you have it fully reclined, there's no chance that you'll inadvertently fall backward.
When you look at the armrests of this chair, you'll notice a unique feature designed for your fingers.
There are finger grips at the tip of the armrests, which are a remarkable addition for a couple of reasons.
You'll find that moving the chair with a firm grip will be simpler, but they're also great for simulators.
If you're the type of gamer that prefers VR environments, you can quickly grasp the armrests for extra support.
Professionally Styled
The traditional look of gaming chairs can be unappealing to some, especially when they have bold color varieties.
On the other hand, this chair takes a more subdued approach that will surely benefit your space.
It will go with any setup with its all-black design, especially if you want a streamlined, modern appeal.
We also love the idea of pairing the MAXNOMIC PRO with LED lights to add an extra flair.
Overall, it's one of the most versatile pieces of office furniture you're bound to find.
What Other Gaming Chairs Do Streamers Use?
There are many gaming chairs highly recommended by the pros, ranging from Herman Miller to MAXNOMIC.
If you're looking for an alternative to Ninja's favorite chair, there are a few other impressive options as well.
Herman Miller Embody
Herman Miller has gained its popularity through an assortment of top-tier streamers, including Tfue, Bnans, and Shroud.
What makes this chair unique is that it's a little more customizable than other gaming chairs.
You can choose from two different frame options, one is standard, and the other is an upgrade.
It's also possible to customize the color of your upholstery and the type if you're going for a specific look.
Some of the other impressive features of the Embody include:
Users will have an incredible depth of customization with the help of this gaming chair.
You can fine-tune the backrest to meet the specific curvature of your spine.
It's often regarded as one of the most ergonomic-friendly gaming chairs on the market.
Using unique technologies, the Herman Miller Embody helps reduce back pain and fatigue.
It features pixelated support, which conforms to your body's micromovements.
As you game, the chair will continually adapt, helping to reduce pressure on sensitive joints.
There's nothing better than having a breathable chair at your disposal.
Each Embody chair is crafted using four breathable layers of materials, enhancing overall airflow.
The unique kicker embedded in the chair allows you to recline effortlessly and at greater depths.
You'll also find the tilting mechanism is inherently smooth and accommodates natural pivot points.
Its balance and stability are often unmatched by lower-quality chair options.
Noblechairs EPIC
Another option for a pro-rated gaming chair is the EPIC from Noblechairs, often used by Pokimane.
It's a beautifully styled gaming chair with some of the most impressive aesthetics we've seen.
It also packs a powerful punch when it comes to sophisticated mechanisms.
Some of the best features of the Noblechairs EPIC include:
Nearly every inch of this chair is designed to have a remarkable amount of padding for all-day comfort.
Like the MAXNOMIC PRO, it also has cold foam for improved density and breathability.
Also, you'll find 55% more padding when compared to lower-quality gaming chairs.
Customizing the positioning of your armrests can significantly improve your gaming experience.
With this chair, you can easily adjust the tilt and positioning of the armrests for all types of gaming.
The most notable feature of the Noblechairs EPIC is its upholstery, which can improve the look of your setup.
You'll find quilted portions with contrasting stitching to pull together all the chair's colors.
The PU leather is remarkably soft, preventing your skin from getting irritated after sitting for extended periods.
Also, all of the stitching in the chair is made with premium-quality materials for exceptional durability.
This is one of our favorite choices for gamers looking for a long-term investment.
Secretlab Titan
Secretlab is a trademark name when it comes to gaming furniture.
They're also one of the most customizable chairs you're likely to find online.
If you want a gaming chair designed to your specifications, this is one of the better models to consider.
Let's review some of the most spectacular features of the Secretlab Titan.
The first thing to explore with this chair is how easy it is to tailor it to your needs.
You'll be able to choose the following when placing your order:
Upholstery:

You can choose between NAPA leather, SoftWeave fabric, and PRIME 2.0 PU leather.

Color:

The Titan is currently available in stealth, black, amber, ash, and classic colorways.

Esports Editions:

If you want to show your support for your favorite Esports teams, there are many unique styles to consider.

Special Editions:

Instead of Esports, gamers can find customized designs from their favorite games, such as Rust and Cyberpunk 2077.

Large Size
The Secretlab Titan is regarded as the larger version of the OMEGA, SecretLab's most popular model.
You'll find a broader seat base measuring 52cm with an impressive seat depth of 50cm.
It also boasts an extended backrest at 84cm.
Like many of the top-tier gaming chairs on the market, this model also features cold cure foam.
You'll find this material is remarkably comfortable and highly breathable compared to memory foam.
It's also ideal for helping your chair maintain its shape over time.
Integrated Lumbar Support
All of the support your back needs will be built into the backrest instead of a removable lumbar support cushion.
You can also fine-tune the back adjustments to accommodate the unique contours of your body.
Tilting in the Secretlab Titan is exceptionally simple, as it has multiple tilting options.
You can also lock the chair into position once you've found the most comfortable placement.
It also features a tilt angle lock, allowing you to choose more precise adjustments.
Having cooling gel in your headrest is a fantastic experience, especially in the summer.
You'll notice the top of the chair remains cool, even if you're in the middle of a heated match with your teammates.
Final Thoughts
There are plenty of professional-styled gaming chairs to choose from.
If you're asking, "What gaming chair does Ninja use?", the MAXNOMIC PRO is one of the best affordable models available.
With its beautiful styling and high-quality internal components, it's the perfect addition to your setup.